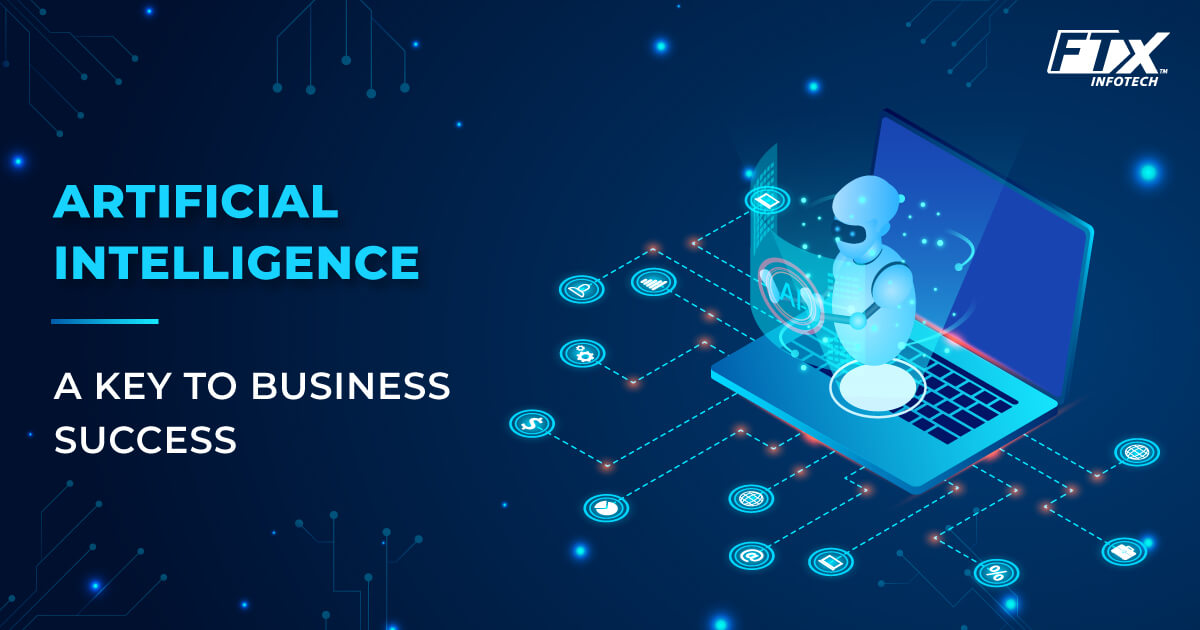 How Artificial Intelligence (AI) Can Boost Your Business?
According to the Gartner report, 37% of organizations use AI (Artificial Intelligence). This clears that many companies are using Artificial Intelligence for automation or for enabling their employees to achieve more complex goals.
AI Business applications will be powered to evaluate data across multiple functionalities, better customer relationship management, and fraud detection. This will provide a competitive benefit to businesses.
AI for Business helps in searching for solutions to complex business problems just as human-like fashion, as it adopts characteristics from human intelligence and implements them as algorithms in a computer-friendly way.
Along with advanced Machine Learning, AI is being applied to intelligent implementations that include consumer electronics, robots, smart cars, etc. along with different business solutions and AL-based apps.
 Types of Artificial Intelligence
It is recommended to the businesses to look at AI through the lens of business capabilities instead of technologies. There are three important business needs supported by AI, i.e.
Gaining Insight Through Data Analysis
Automating Business Processes
Engaging with Customers and Employees
As mentioned in hbr.org, Robotic Process Automation technologies are mostly used technology for the automation of digital and physical tasks like financial activities and back-office administrative. With advancements in technology, RPA (R stands for Robotics, i.e., robots –code on a server) acts like human inputting and consuming information from multiple IT systems to perform many tasks.
Transferring data from email and call center system into systems of record.
Reaching into multiple systems to update records of lost Debit or Credit cards
Managing Customer Communications
Reconciling Failures to charge for services across billing systems
Using Natural language processing to "read" legal and contractual documents to extract provisions
Current Capabilities of Artificial Intelligence
Machine Learning:
Machine learning enables a machine to learn from examples and act without being explicitly programmed. In ML, Large volumes of data can be processed by computers and connect the dots across thousands of variables to get a high degree of accuracy. The capability to draw insights from an uncountable number of data points reduces the duration of tasks.
Natural Language Processing:
NLP powers human-machine interactions. This capability provides machines the ability to read, understand, and derive meaning from human languages. NLP can gather business intelligence from terabytes of data from the viewpoint of business process management. Apart from this, other things include information extraction like account numbers and name from forms and text resources, linking entities, and grouping forum discussions by topic.
Interactive Capability:
The interactive capability of AI allows natural, seamless human-machine conversations. In simple words, no specific requirements and scenarios are defined to enable interactions. One of the best examples of interactive capability is conversational marketing. In a conversational marketing platform, hundreds of website visitors interact with chatbots simultaneously. Moreover, it is integrated with IT/Telecommunications systems, enterprise user's analytics platforms, and CRM systems.
Business Benefits of AI for Businesses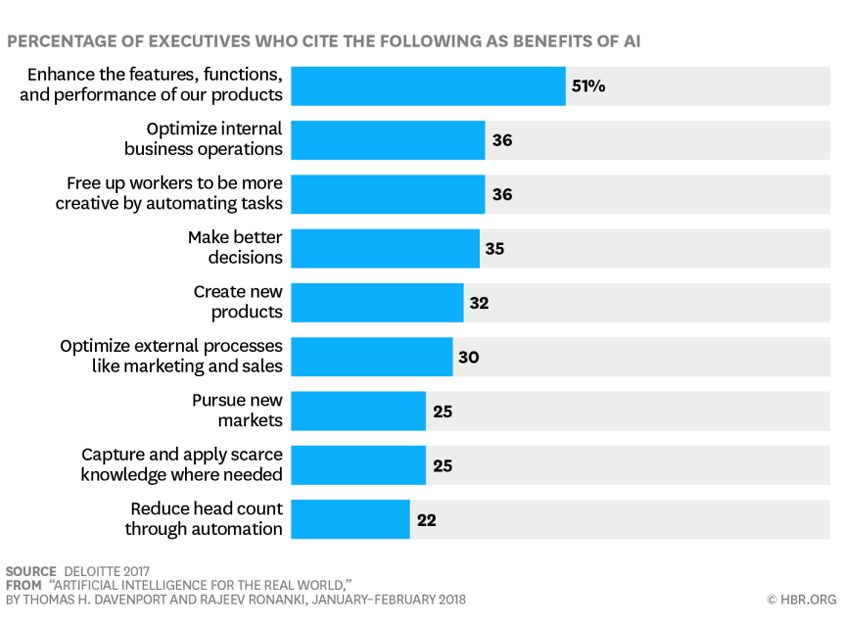 Artificial Intelligence seems like a solution to all the problems. This excellent technology can do everything to win business leaders the competitive edge. This rapidly developing tech delivers many important development opportunities that many businesses have already been quick to seize. Here're some of the ways, businesses can benefit from cloud-based AI.
 Automating Customer Communications at Reduced Cost
By 2021, a chat will outdo other customer service platforms. AI-driven chatbots offer a convenient 24/7-customer-support system for the companies to automatize customer communications and make the experience more personal.
With the latest improvements in natural language processing, we have seen that 'bots' have picked up conversation nuances and better mimic human speech, resulting in improved customer journeys and customer satisfaction.
Recently, the banking sector has implemented chatbots that result in improved back-office efficiency and reduced salary and benefits costs. Moreover, businesses with limited budgets or businesses that don't have a dedicated customer service team can implement AI-enabled chatbot to fill customer service gaps.
 Strengthen Brand Loyalty with Personal Touch
Personalization takes time, effort, and money, and to deliver a personalized experience, businesses need to be plan individual consumer journeys and have to predict the moments and offers that will increase engagement and drive sales. Delivering personal experience to every customer requires the ability to anticipate the requirements, and this is a task fulfilled by Artificial Intelligence.
Businesses use data from customers' social media activity and purchase history to predict the type of products consumers will like to buy. These insights enable the company to get customized content and messages to customers.
Here, the role of AI is to recognize decision-making patterns by automating this process, creating personas based on this, and then driving content that AI has learned to increase click-through rates. This is one of the examples of how automation technology and AI can enhance Business's marketing strategy.
Increase Forecasting Accuracy
The reduction in human error is the most substantial business benefit of Artificial Intelligence. As a consuming process prone to human error, the necessary thing for business success is to forecast cash flow. Using Artificial Intelligence technology, businesses can easily automate objective forecasting without manual intervention. This provides greater visibility to the businesses for their future finances, empower them to take better decision, and helps them to take actions to achieve business goals.
Effective Sales Process
When it comes to sales and marketing, businesses are always looking for an innovative and more effective approach. Nowadays, integrating AI into CRM is the latest trend to reach the crafted sales pitch to the right customer at the right time on the right platform.
A multitask AI-driven CRM can handle all the business functionalities. The sales team also offers customized solutions by using AI to know their customers better.
Taking about the eCommerce businesses, they can ask a few questions to their buyers, and according to their preference, they can display the product that can be the best fit to increase the chances of conversion. There is no doubt that AI is changing the face of sales by showing the quicker conversion, and even companies are getting insights quickly.
Concluding With:
As mentioned, Artificial Intelligence offers limitless advantages to a wide range of business domains. From customer services to inventory management and operational automation, AI can be used in many ways.
Do you want to know how your businesses benefit from AI and its capability? Contact us to schedule 30-minutes free consultation from our experts. We have expertise in developing AI-based apps designed specifically for cloud-based systems and are easily deployable.
Frequently Asked Questions

Warning: Undefined variable $author_social_info in /data/ftxinfotech/public_html/wp-content/themes/ftx-infotech/functions.php on line 1317