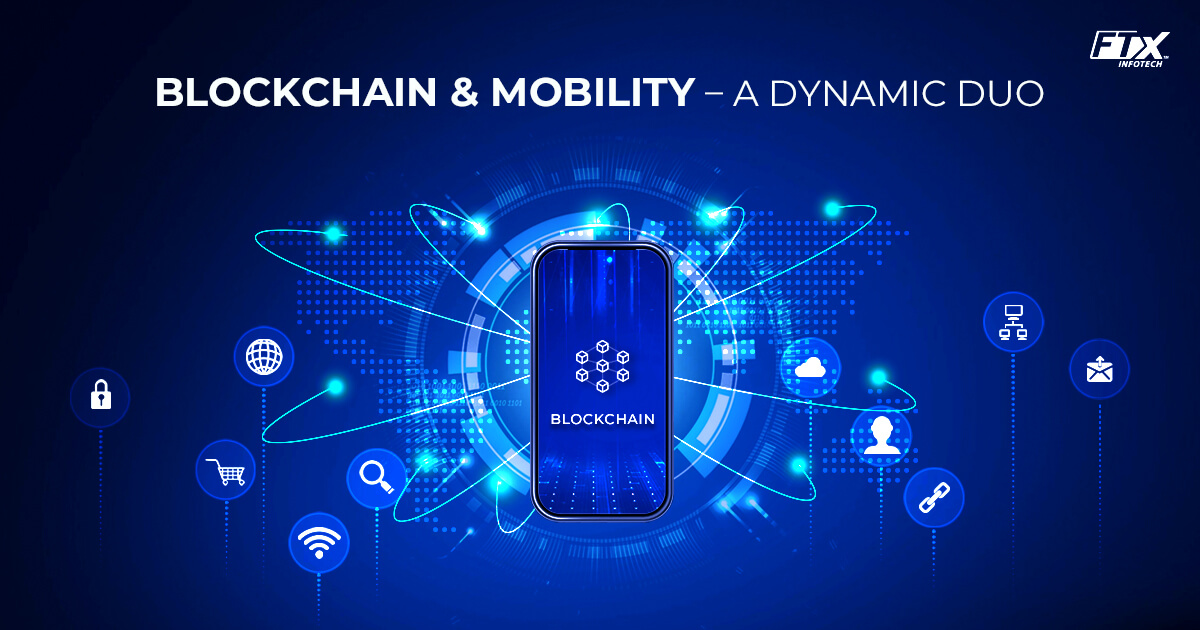 Blockchain & Mobility – How Blockchain Development Helps Business to Grow Successfully?
Blockchain has left its mark on many industries since its first appearance as a cryptocurrency in the financial sector. From simplification to automatization, Blockchain technology comes with various characteristics that make it apt for multiple purposes.
When considering Blockchain integration or introducing a new Blockchain-based product, there are many factors to keep in mind. This trending technology has a massive impact on how businesses operate and what benefits it offers to businesses. When it comes to deciding about to Hire Blockchain developer, it is a must for every business to be fully prepared.
We'll share our vision on what makes this technology so unique for the mobile app development industry and how this dynamic duo helps to grow business successfully through this blog.
What is Blockchain Technology?
If we are talking about Blockchain technology, we are talking about digital information ('Block) stored in a public database('chain'). It includes three important concepts, i.e., blocks, nodes, and miners
Let's first understand blockchain technology through the below Image.
Here, the main use is the validation and execution of payments and smart contracts for a car-wallet. On the other hand, the focus lies on the decentral database functionality in case of smart insurance. Here, the self-owned car acts as a decentralized database; it also requires smart contracts, a real-time system, and different payment scenarios.

Blockchain Technology – Why It is Unique for the Mobile App Development Industry?
1. Digital Wallet Apps

With the development of cryptocurrency, Digital wallet app development has gained enormous popularity. Blockchain plays an essential role in wallet security with the rise in cryptocurrency-based digital wallets.

2. Digital Applications Development 

Digital apps used and demanded across several industries like hospitals, Educational, Government, and so on. For personal identification. Trendy across the industry, digital apps developed by using blockchain-based technology are reliable and secure to store confidential information.

3. Enhanced Advertisement Model

Previously, all mobile app developers have to invest to reach the widest audience, as the cost-per-involvement principle is included in contemporary advertising campaigns. All thanks to the blockchain development technology, as it evacuates cost-per-attention. Users are rewarded by the app coins accompanied by the time they spend on using the apps. Removing the middlemen and rewarding users with coins proves useful for making in-app purchases smoothly and efficiently.

4. Streamlined Google Play and iTunes Approval

Android & iOS are two market players deciding the mobile app approval in their respective stores. At present, the submission processes of these App Stores are cumbersome. However, Blockchain mobile app development enables developers to submit and get app approval by using separate user ranking method and decentralized public ledger to make the process fair and transparent.
How Does Blockchain Benefit Business Across Industries?
Some Government bodies, financial institutions, etc. are using the Blockchain-based app solutions, as they have already seen advantages, ranging as post-trade settlement and digital asset creation. Using the Ethereum and other platforms tested architecture, and unrivaled programmability enables businesses to develop robust and customizable networks and applications at scale.
1. Automatic Execution

Using programmable transactions, blockchain technology streamlines business processes. It enables real-time clearing and settlement.

2. Digital Asset Management

It rapidly creates and manages digital assets and instruments.

3. Production Grade

It enables to manage a compliant blockchain platform at scale with zero downtime.

4. Trusted Business Networks

It deploys permissioned networks with shared business logic and customizable governance with ease.

5. Advanced Security

Tamper-proof data coordination and granular security controls to mitigate risk.
Some technologies Are Used to Develop Blockchain-based Solutions
1. Blockchain Platforms

Hyperledger, Ethereum, Tierion, Solc, Truffle, Etherscan, Remix, Mist, MultiChain, EOS, Stellar, Cosmos, IPFS, Minter, NEO, Credits

2. Tech Stack

Java, JavaScript, Node, C++, Solidity, Python, WebAssembly, Laravel, Go
When and How to Use Blockchain Development in various Businesses?
Many sectors are deploying Ethereum blockchain solutions, as it could be used in various aspects. These shared business processes are used by different industries like Retail, Manufacturing, Healthcare, Financial Institutes, and so on to address recurrent industry problems. Undoubtedly, Blockchain technology creates significant value compared to other technologies; however, you should be ensured to use the core capabilities of this technology to fill the gaps to solve enterprise problems seamlessly. Here're some of the best advantages of Blockchain offered to the businesses.
1. Decentralization in a P2P Network

From compliances to communication, everything should be done in a centralized way. Integrating decentralized mechanisms, i.e., Blockchain things, helps businesses bring all the communication in the cook-proof system and provide an outline to the firms that functions are unhackable.

2. Improved Efficiency and Speed

Trading anything using the traditional method is a time-consuming process, prone to human error and often, needs third-party mediation. Automating and streamlining these processes with Blockchain-based solution makes transactions faster and more efficient. Blockchain performs a single digital ledger for record-keeping to share among participants, and thus, you don't need to reconcile multiple ledgers and result in less clutter.

3. Cost Reduction

Reducing the cost of a priority for most of the business. Businesses don't require mediators or third-parties to make guarantees with Blockchain-based solution. Also, businesses won't have to review much documentation to complete the trade. It doesn't matter whether or not you trust your trading partner as they have trusted Blockchain's data that can be easily accessible by everyone.

4. Improved Traceability

It cannot be easy to trace an item back to its origin when business is dealing with products that are traded through a complex supply chain. Recorded exchanges of goods on a blockchain enables businesses to check where an asset came from and every stop it made on its journey through an audit trail. Such kind of historical transaction data can help them to check/verify the authenticity of assets and prevent fraud.

5. Wrapping Up!

Going through this blog, if you want to get a blockchain-powered app development service, contact our Blockchain experts. Our Blockchain developer uses advanced blockchain technology like Ethereum and others to develop a robust mobile application objective to drive operational efficiencies. We provide a Blockchain-based mobility solution that has the potential to disrupt your existing models if adequately implemented.
Frequently Asked Questions