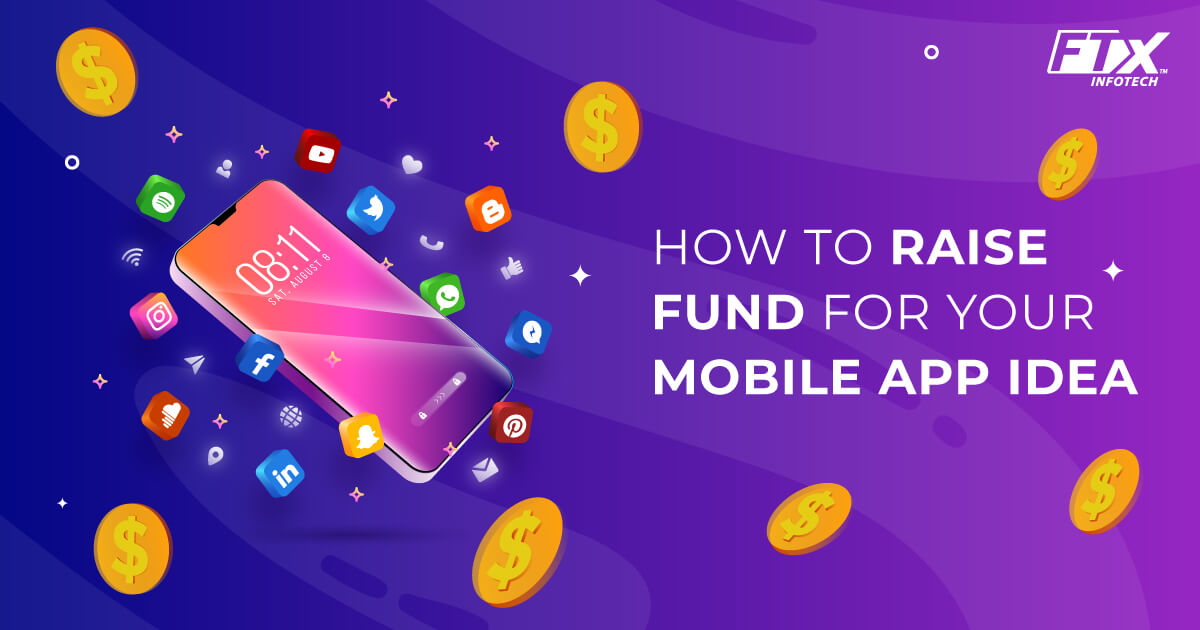 How to Raise Fund for Your Mobile App Idea [The Proven Ways]
It is common among people who have innovative ideas and techniques but lacks the budget to implement. Mobile app development isn't exceptional to it. As per the recent study, almost every top successful, savvy app in the app market manages to crack with the fundraising path's help. Unless you are a genius coder, bring your app idea into reality will not work for you to build a powerful tech-savvy app without the assistance of a mobile app development company
At the same time, developing a successful app will be an expensive proposition. But, do not step your entrepreneurial mind from dreaming. Many alternatives are available to fund your mobile application development idea if it includes innovative features and unique functionalities.
Moreover, it is also a challenging feat. to get investors interested in your app idea, as they are paying development and marketing charges, employee salaries, and so on. You also have to prove that your idea is worth to invest and you have the experienced development team to convert that idea into successful mobile application.
Getting Investors for Your Mobile App
As per today's scenario, talented people are searching for how to drive investors for their app development. However, many of those are in lack of professional guidance and proper guidelines to follow. Here are the four things to consider before going for the actual fundraising task for your app development.
Develop an interesting store for your mobile app development idea.
Always engage with the right people for raising funds for your app.
Ensure to keep motivation level high even in the face of rejection.
Be resilient and persistent until you succeed.
You may have a sleek theme for your mobile app, but it lacks in budget and is worried about attracting investors to invest in your mobile app. Well, you are in the right place.
Here we have elaborated on the top proved ways to raise funds for your mobile app development. With our ultimate guide, you can drive the attention of investors towards your mobile app development and can hire a mobile app developer to make your dream come true.
5 Proven Ways to Raise Funds for Your Mobile App Idea
1. Awareness of the app's niche
It is essential to know about the competitive landscape of your app's niche in today's market. So that you can gather enough data from your competitor's app and improvise those on your mobile app idea, at the same time, ensure about not copying the ideas and offerings of the other companies on your app.
By doing so, you can narrow down your target audience and help you while approaching the investors to raise funds for your app idea.
2. App Branding
Make sure your app gets branded. Branding helps your app to get more visualization in the app market and reaches more audience. Branding promotes visualizing thoughts among investors. In simple words, branding lay down a strong foundation for your app development process.
If you are struggling to brand your app, then don't hesitate to seek help from the reputed mobile app development company nearby you.
3. Elevate Pitch Development
Getting the attention of investors on your app idea without deviating is essential to increase the chances of getting funds for your app development process. To achieve it, you need to elevate your app idea by though penciling it perfectly. A perfect proposal with elevated pitch is a key to attract investors.
Professionals do hook their investors without taking much time, roughly about 30 seconds. An entirely high pitch will hook investors to discuss more on your app idea.
4. Be Precise on your Pitch Deck
Once your app idea manages investors to hook, start working on building a pitch deck. A pitch deck can be termed as a presentation that elaborates all those features, specifications, functions, development processes, etc. about a product. Here your pitch desk should revolve around your app along with the marketing campaigns, cost, needed equipment, and so.
Remember, always be precise on your pitch deck work with realistic data, current statistics, branding, highlighting the advantages your app has over its competitors.
5. Create an Interactive App Demo
Finally, you supposed to provide something that can help investors to visualize or to experience your app in real-time. For that, you should have a perfectly developed interactive demo of your app idea.
Make sure your demo is an MVP (Minimum Viable Product) with only featuring core features, this state's your seriousness on your app idea to the investors
Types of Funding You Can Avail
In the market, you can find investors who can fund your app idea for various kinds and make sure your app idea meets success. Here are the few popular funding types in which you can make your dream app idea into reality.
Angel/Seed:
It a type where you can seek funds from the experienced, wealthy people and venture capitalists for your app idea. This type of funding will yield a high volume of funds for developing your app idea when compared with other types.
Bootstrapping:
It is a type where you initiate the developing process of your app idea through your savings latter approach firms for raising funds for your expanding your app idea.
Crowdfunding:
It a type where you can raise funds for the development of your app idea from a large pool for investors. Each investor will make a small contribution.
App Contests:
You can find several contests running around the world to support talented people to submit their app/business idea to a broad audience of investors of business people
Personal Network:
It is a type of seeking funds from your closed circle, mostly from families, friends, and other known people
The Bottom Line
Bringing your app to reality from your dream isn't going to get easy. However, with proper guidance and sleek approach, you can convert your dreams into reality. Follow the aforementioned steps and start raising funds for your mobile app idea, and with the help of Mobile App Development Company, you can taste the success.
Frequently Asked Questions

Warning: Undefined variable $author_social_info in /data/ftxinfotech/public_html/wp-content/themes/ftx-infotech/functions.php on line 1317