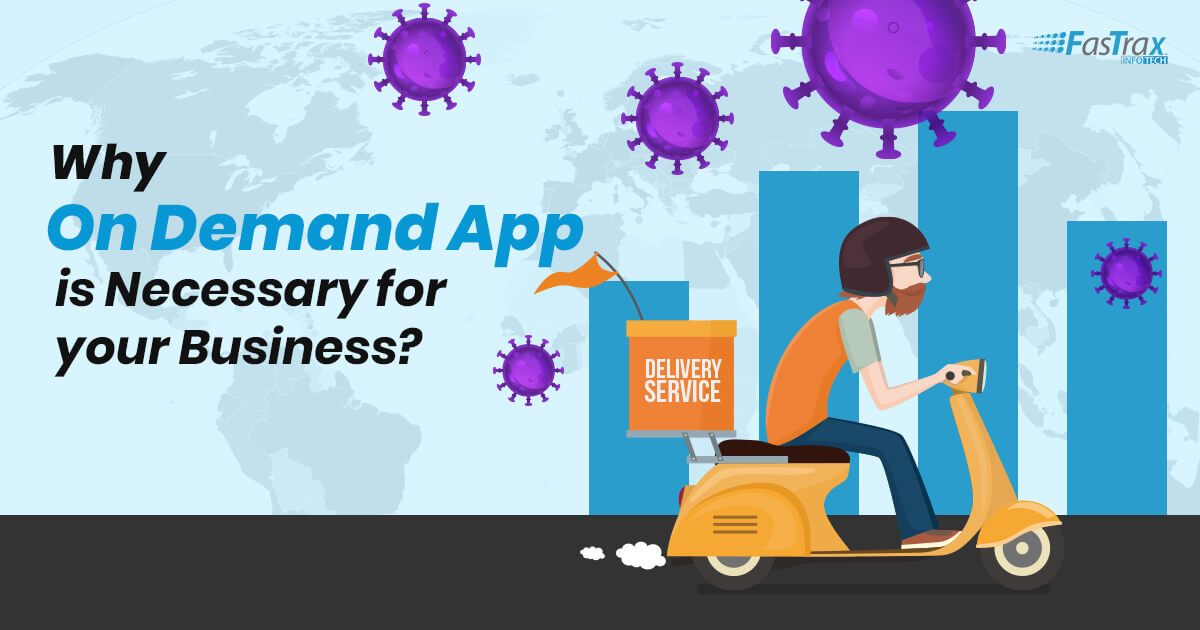 Significance of On-demand Delivery Businesses During the Coronavirus Outbreak – Customer Retention Tips, Features, and Cost
The Covid-19 pandemic has infected over 5,000,000 people worldwide with over 24,000 casualties at the time of writing this article, according to worldometers.com.
We all believe that the current outbreak of the novel coronavirus (COVID-19) disease has adversely affected the global economy. Whether transportation, retail, manufacturing, or any other industry, all businesses are losing revenue.
However, there are some industries that haven't been negatively affected. In fact, these industries have been enjoying revenue benefits despite this gray situation. One such industry includes on-demand delivery. Let's see how businesses that offer on-demand delivery have benefited during the pandemic.
Did you know there has been a 600% increase in vegetable deliveries at Carrefour during the CNY period? These days, online grocery and vegetable delivery businesses have seen a massive surge in orders worldwide.
On-demand delivery apps are not new to people. According to data collected for a recent study conducted by Apptopia, an app store intelligence firm, grocery delivery apps like Instacart, Walmart Grocery, and Shipt have started seeing record numbers of daily downloads–a surge of 218%, 160%, and 124%, respectively.
Among the delivery apps, the Target app has broken all the records. Target saw over 53,100 daily downloads, which was up from 25,000+ a month ago. Like the Target app, Walmart has also announced it will merge its grocery delivery service into its main app to increase orders, because grocery apps, these days, are setting a new download record.
Are you thinking about developing your own on-demand delivery app to help sustain your business during this grim period?
You've come to the right place.
We'll give you an idea of what you should consider in order to build the perfect on-demand delivery app for your business.
Firstly, you have to identify and track the top key performance indicator you want in your on-demand application. You have to consider three important things, i.e. User Retention, User Acquisition, and Delivery costs.
How will you retain your app users?
Customers will tend to stay with you if you deliver the goods on time as promised. This is the most effective way to see a surging increase of on-demand delivery orders. Moreover, there are a few things that will also help your business to win customer attention.
Provide 24*7 customer support to solve inquiries or complaints quickly and with friendly responses.
Take customer ratings seriously and respond to their feedback to keep them happy and improve your system.
Give special offers, discounts, and deals to your customers so that they can use your app again.
Check out some important features to consider before you go with an on-demand delivery app development company.
Sign Up and Sign-In Page
This is an essential page for users to register themselves and begin their relationship with your business. It would be great to let your customers sign-up with their social media accounts to simplify the registration process.
Account / Profile
Users are required to add personal details like their name, location, gender, etc. before they can begin to access and use their profile. Here, you can also add payment options and store their order history.
Search Bar
Without a doubt, this is one of the most vital elements of your application. You can add detailed product information with prices, reviews, and service information within this feature.
Matching Algorithm
This feature enables matches the closest delivery option based on location.
Orders
An important feature, the order placement feature enables a user to add products manually and place their order in-app. It usually includes basic information like drop-off locations, customer info, delivery time, and preferred delivery time and place (if applicable).
Scheduled Delivery
This is another feature that is considered one of the most useful features for users who want to schedule their deliveries on a date and time that's convenient for them. To schedule deliveries, users have to select a preferred date, time, and location.
Push Notifications
This is another must-have feature you'll want to include in your on-demand delivery app if you want to be able to send notifications to your users about the latest discounts, offers, coupon codes, and so on. This feature will increase sales and traffic.
Real-time Tracking
This is one of the core features of any on-demand app, because it tracks the user's current location and provides accurate times for your deliveries.
Payment Gateway Integration
The payment gateway integration feature makes shopping easy so long as it's built to be reliable and secure. When including the payment integration feature, you should provide users with various payment gateways like Net Banking, PayPal, Cash on Delivery, and eWallet, among others.
History
With this feature, users can track the history of their previous orders.
In-app Chat or Messaging
A must-have feature, an in-app chat or messaging feature enables users to communicate with their delivery person. Users can also connect with your support team if they're having an issue.
Reviews and Ratings
This feature provides you with actual feedback from users. Through reviews, users can share their experiences and rate your services accordingly. These reviews and ratings will enable your service providers to improve all areas of your business and help you to provide better service.
How much will it cost to develop an on-demand app?
The estimated cost of building an on-demand delivery app varies depending on the app's complexity, features integrated, technology and platform used, pricing model, and so on. The cost of app development is calculated on the total number of development labor hours required.
You can share your requirements by filling out the Contact us form and our experts will get in touch with you with an exact on-demand app development cost after reviewing your requirements
Wrapping Up
If you've made it this far reading our on-demand delivery app development guide, then hopefully you've seen its impact. Are you ready to have an on-demand delivery app developed for your business?
Be smart and choose a mobile app development company wisely. Developing the perfect on-demand delivery app for your business will require an experienced, technologically well-versed, and highly skilled developer.
FasTrax Infotech is comprised of a reliable team of on-demand app development service providers. Our experienced team of mobile developers have already developed 10+ mobile apps relevant to all industry verticals. Contact our on-demand app development experts to check out our work.
Frequently Asked Questions