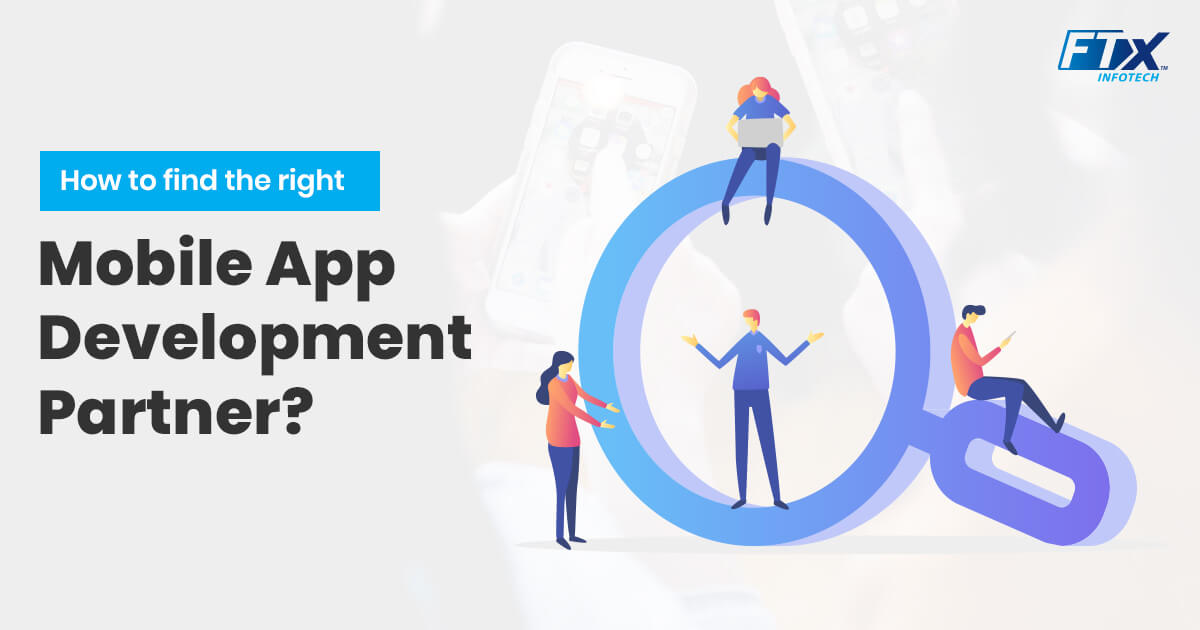 How to Find the Right Mobile App Development Partner for Your Startup?
If you are new to business or an established but a developing one and looking for mobile app development for your company, you have to be prepared enough before choosing a mobile app development company. If you expect your business to be successful online, selecting the right app development partner plays an important role; otherwise, your app may not help you yield benefits.
Many may have the question of whether small businesses can have mobile apps or do any such businesses have made their online presence through an app. To answer your question, according to a statistical survey, almost 42% of start-ups start a mobile app to support their business, and 30% of businesses have plans to adopt a mobile app in the future.
Moreover, by the end of 2020, the world may have around 6.95 billion mobile phone users, and smartphone users might cause nearly 50% of the global internet traffic. [Source]
Identifying the Right App Development Partner
Before you outsource your app development project, make a checklist in mind whether the one you are approaching is theright app development partnerfor your company.
Understand what you want to bring into the app, such as features, your feasible budget, and which platform you want to release the app on.
Shoot several questions to your app development partner when selecting.
Evaluate your app developer's qualities and before that, know what a talented developer should have.
Let us dig into the aforementioned factors in detail here.
Know Your App Needs
Before you sit for a discussion with your app development partner, you must know a few basic things about what you need in your app. Ask yourself the following questions and meet your partner well-prepared:
Why do you want to develop an app at first?
Who are your target audiences to use the app?
Answers for these questions will not only help you while developing an app but also in marketing and lead generation for your product/service. Think of a budget that could at least support you in developing a minimum viable product so that your app meets most of your expectations. Finally, you can determine which platform(s) you want to build your mobile app, which provides you sufficient information for mobile app development.
Know Your Partner's Potentiality
Hire mobile app developer on asking the following questions, and if they provide answers that satisfy you.
#1: Ask whether your partner has prior experience in developing mobile apps
Take your sweet time to review your app development partner's portfolio, see if they have relevant industry experience, and develop apps of the type you are looking for. Look for their customer reviews and feedback if any, and check how long they have been in the field. This will help in a good understanding and quick completion of your app.
#2: Know if your partner requires your help or involvement in the due course
Ensure that your app development partner has established policies and process development documents and are available transparent to you so that there will not be any hidden criteria after you sign up.
#3: Check whether your partner offers any app development guidance
A good app development partner should analyze your app idea and provide more inputs and suggestions, which show they are experts and can make a better product. See if your partner is offering you such suggestions or just going by books.
#4: Confirm whether your partner provides support post the app launch
Mobile app development does not stop with launching. It requires updates and patches after going live. Hence make sure that your partner provides maintenance support post-launch of the app.
#5: Is there any documentation provided by your app partner?
In cases where your app development partner fails to provide post-launch support to your app, they should at least provide proper documentation for app development and how to use it. Check whether you get this from your partner.
#6: In what way they deal with testing?
Before the launch, your app should be a user-tested one that is intuitive for user engagement and the way it works. Check the testing methods applied by your app development partner and what recommendations do the developers provide for your app.
You should also ask about providing up-to-date progress on your app, submission to App stores, and marketplaces required, if any, etc.
Bonus Question: Do they provide "Idea Creation" as a service?
When everything works well, ensure to ask your development partner, do they offer "Idea Creation" as service. Usually, this part needs specialized knowledge to beat the harsh competition between different mobile apps. If your app development partner helps to shape your mobile app development idea, then hold in mind that partner will give you more than development service.
Know Your App Development Company's Qualities
Now you have clarity for what you should have in your app and what questions to ask with your app development partner. Similarly, as the last step, you should know what your developer must-have.
#1: Portfolio of Apps
Ensure to check the portfolio to know whether the existing apps or works of your partner has an amazing user interface design and user interface experience. They must be capable of developing apps creating great user engagement.
#2: Using Trending Technology
If you know about technologies and want your app to be carried out on one such technology, your app developer should be familiar and have expertise in working with the respective technology. They should also be multi-skilled and familiar using cross-platform app development.
#3: Business Knowledge
Your app development partner should know your business so that they can give additional inputs and betterment to your app. You and your app development company should always stay in sync for successful app development.
Similarly, they should show interest in your business; otherwise, you may find it challenging to promote your app and should be following sound development practices and perfect strategic planning.
#4: Post Support
From managing to monitoring, upgrading, and maintaining mobile application, 24×7 is required. Beyond the initial implementation, many app development partners support with a broad choice of services that help to resolve any app-related errors and bugs after launch. So, before hiring any mobile app development company, ensure that you will get free post-support service for your app development project.
Conclusion:
To summarize, what you have seen in this blog until now is to choose the right app development partner. You should follow certain criteria and know why you want to bring out the app idea, in particular, and what questions should you ask your partner before signing up. If you need further support on mobile app development, get in touch with one of our customer support representatives for instant help.
Frequently Asked Questions

Warning: Undefined variable $author_social_info in /data/ftxinfotech/public_html/wp-content/themes/ftx-infotech/functions.php on line 1317