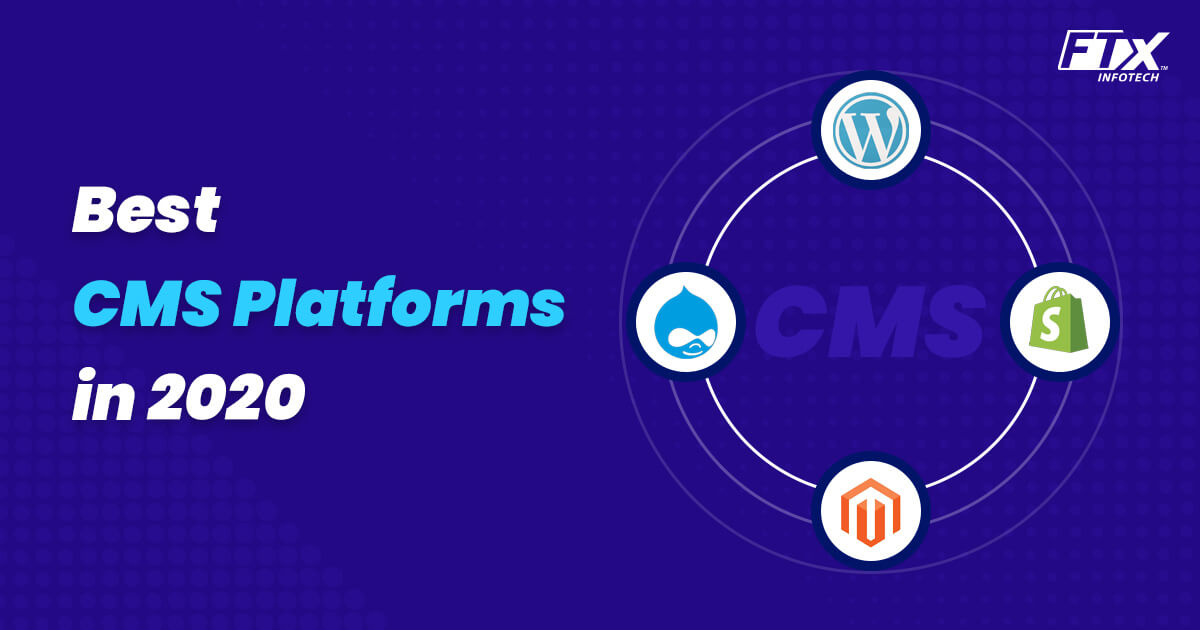 7 Popular and Best CMS (Content Management System) Platforms in 2020
Are you wondering what is the best and most popular content management system (CMS) is? Content management is as old as the internet and it is used to develop a website or blog.
There are more than 1.5 billion websites on the world wide web today and the total number of sites has grown significantly while the revenue is decreasing year-by-year.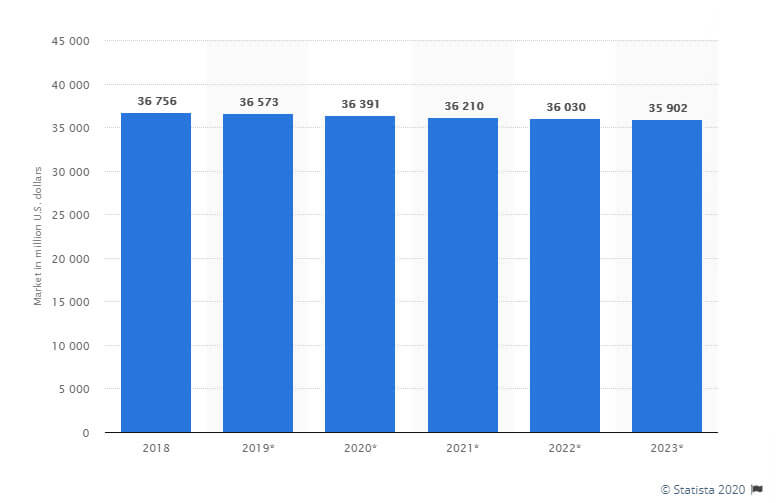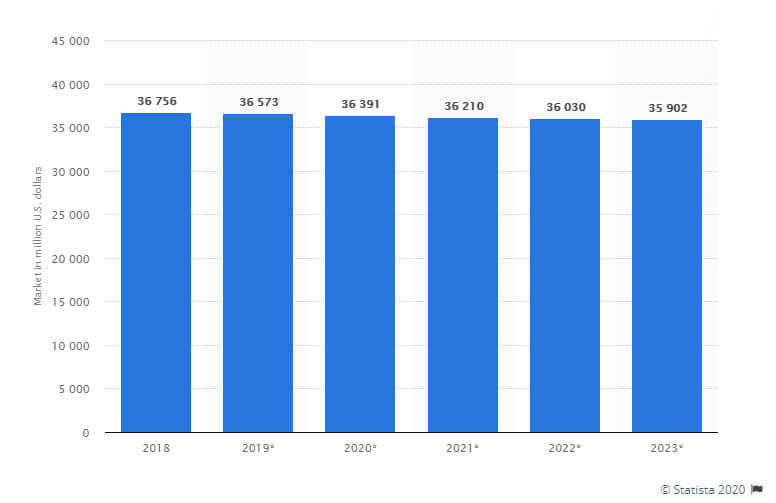 According to the statista.com, the revenue of content management software application will be estimated worth 36.39 billion U.S. dollars in 2020 worldwide which was 36.75 billion U.S. dollars in 2018. Although the number of CMS users is increasing, the revenue is not increasing, as shown in the graph.
If you are new to the world of CMS (Content Management Systems), here we have shared some basic information about it.
What is Content Management System?
CMS is a software app used for managing web content. It allows multiple contributors to develop, create, and publish different content types, which are stored in a database and displayed in a presentation layer that based on a set of templates. Some of the most essential features of Content Management System are:
Content Creation to create and format content
Content Storage to store content in one place.
Workflow Management to assign rights and responsibilities to the author
Publishing to make content live
Essential Features that Made CMS Popular
1. Easy-To-Use Content Editor

An important feature, WYSIWYG (What You See Is What You Get) editor, is an easy-to-use content editor that enables you to create content with any coding skills required. Such type of content editors saves time in updating and maintaining content.

2. Powerful Publishing Tools

A good CMS should be familiar with everything related to publishing short news to long blogs with custom layout. It will also familiar with publishing landing pages with embedded documents and handle SEO, adding images, videos, etc. within the publishing interface.

3. Integration and Extensibility

CMS should be easily integrated with other technologies and platforms like ERP, CRM, Mobile Apps, and so on. Ready-to-use connectors decrease development costs and are advantageous for businesses.

4. Ecommerce and Marketing Features

The content management system shouldn't be limited to manage the content only, it also has simple yet effective eCommerce features like developing landing pages, improving shopping cart experience, and so on. Just like eCommerce features, it should also have marketing features like social sharing buttons, content calendars for digital marketing planning.

In addition to these features, content management systems have features like third-party integrations and plugins, user management, multi-platform capabilities, robust content templates, and so on.
Keeping these things in mind, let's check out the best CMS (Content Management System) Platforms that work best in 2020.
Written in PHP and MySQL, WordPress is one of the most popular content management systems using the SQLite database engine. It is an open-source CMS that doesn't require any technical knowledge to use.Covers almost 60% usage of CMS platforms, WordPress delivers a specially priced business plan starting at $25/month. This plan includes a collection of themes available in the store, unlimited storage, customized domain, etc.

Advantages

WordPress doesn't need PHP or HTML programming and thus, users can easily WordPress and its function without having a programming background.
It also has a wide range of plugins and a large community.
It offers a management feature for menus to add specialized menus that allow the viewer to jump to other pages and categories easily throughout your website.
WordPress also offers free and paid templates to change the look of the website.
It allows adding labels, categories, etc. to your page through plugins or on your own.

Similar to WordPress, Magento is also an open-source eCommerce platform that focuses on eCommerce businesses only. This platform handles larger brands and enterprise-level businesses and delivers many solutions depending on the size of businesses.Magento offers community edition for free and users can purchase a plan for extra features like cloud hosting, support and so on. It's difficult to install and set up Magento and thus, it may require a developer's assistance.

Advantages

Magento platform can add up to 500,000 products and online stores.
It has built-in options like cash on delivery, PayPal, and bank transfer and can connect with different payment gateways.
It offers a wide range of tools used for promotion and marketing purposes.
Magento comes with SEO capabilities that provide better search results for businesses.

3. Shopify

With the market share of 2.7, Shopify is one of the leading eCommerce CMS based on SaaS (software as a service). This CMS is used to develop eCommerce store with features like payment gateway integration, product management, and so on.This content management system handles other features of online stores like web security, web hosting, SSL certificate, and so on.

Advantages

Shopify can be easily integrated with WordPress and apps to add some extra features and functionalities.
It creates visually appealing online stores with rich UI and exceptional UX.
Delivers a super-fast loading speed
Shopify's basic version delivers excellent SEO features along with advanced e-commerce analytics.

4. Drupal

Developed by Dries Buytaert, Drupal used for developing websites and web applications with remarkable features like reliable performance, great security, easy content managing processes, and so on.Installed on web servers, Drupal is the preferred choice for developers and designers, as it comes with many add-on modules and designs.

Advantages

It enables Drupal developers to deploy core features and functionality rapidly.
Allows developers to develop custom modules using well-documented API
Delivering great flexibility of displaying SEO-friendly content that helps to generate more leads
Drupal is mobile-friendly CMS

5. Squarespace

Squarespace is a user-friendly content management system that lets you develop a professional site online without coding. Squarespace CMS enables to choose templates from the repository, allows us to add some text and image and click on the 'go' button to develop a website.Squarespace comes with four pricing options that start with $16 / month. It offers e-commerce functionality to all its plans except the 'Personal' Squarespace plan.

Advantages

Having 1000s of templates that easily optimized for phones and tablets.
It has excellent blogging features like commenting, multi-author functionality, schedule posts, AMP support, etc.
Excellent Customer support through email tickets and live chat

6. Joomla!

Joomla! is also considered as the best CMS software backed by a large and active developer community. Being a developer-centered CMS, Joomla! is the best alternative for developing a custom-looking and custom operating website.Joomla! enables developers to connect a site to a MySQL, MySQLi, or PostgreSQL database to make content management. It enables to develop a fully SEO-optimized site to make it visible in search engines.

Offers advanced user management options
Easy to install with just a few minutes
Having more than 8000 extensions available that are categorized in 33 different categories
Multilingual support functionality

7. PrestaShop

PrestaShop is a freemium open-source eCommerce solution that used to develop an online store, manage products, customize your stores, track statistics, and more. This content management system is best for enterprises with less budget.Available in 65 international languages, PrestaShop enables you to set up stores in the cloud. Till now, more than 1.25 lacs online shops developed using PrestaShop across the world.

Easy to install and budget-friendly
An Excellent option for beginners and intermediate eStore owners
Supports multiple currencies and language
Integrate with reliable, convenient, and secure payment gateways like PayPal and Google Checkout.
Concluding With:
Above mentioned CMS platforms are useful in many ways, however, each of them has its disadvantages. So, it is recommended to choose the CMS that fits to your requirements. Before choosing any CMS for your project, ensure to read this blog to make a better CMS decision.
Frequently Asked Questions 

Warning: Undefined variable $author_social_info in /data/ftxinfotech/public_html/wp-content/themes/ftx-infotech/functions.php on line 1317