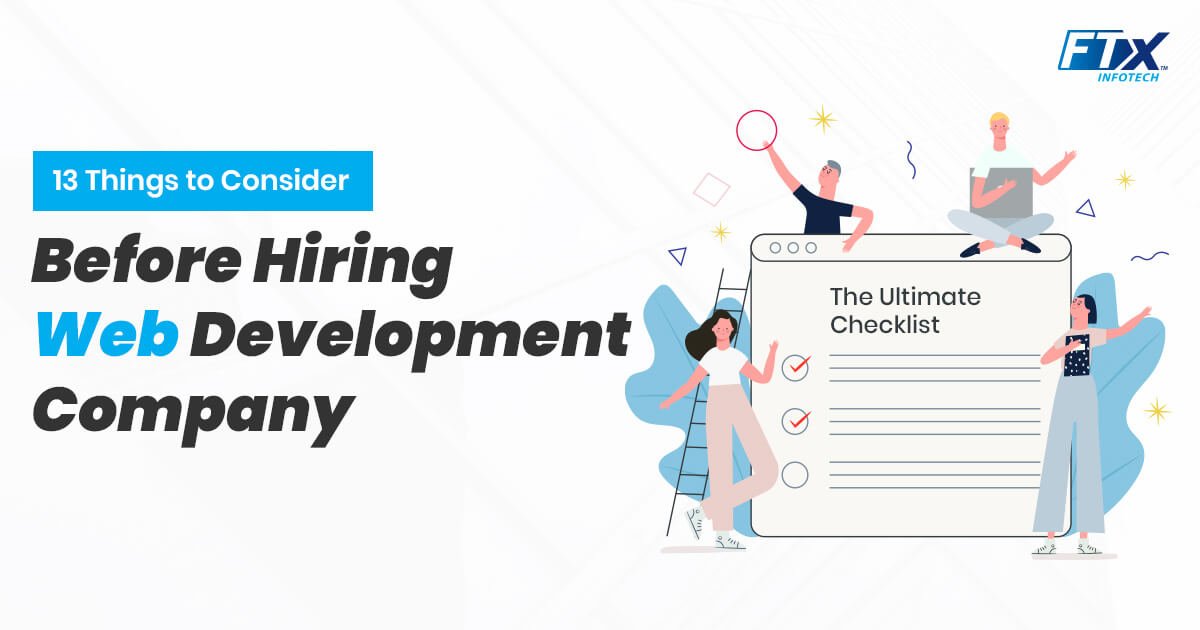 13 Things to Consider Before Hiring Web Development Company [The Ultimate Checklist]
Are you hiring a web development company for your next project? Regardless of your business size, hiring a web development partner is a big decision.
As users spend an average of 0.05 seconds on deciding whether to stay on your site or leave, cutting down the loading speed from 8 to 2 seconds can boost the conversion rate by up to 74%. And, this is only possible by hiring the best web development company who helps with good design, better coding, and excellent speed.
As your business site is what users associate you with, it is important to hire an experienced web development company to develop robust, scalable, and feature-rich website. Before you dive, here are 13 most important tips to consider when hiring a web development partner.
Does your hired web development company outsource or you have an in-house team?
Ensure to ask whether or not the web development company performs all of its services in-house. A complete web development service includes designing, coding, quality check, writing SEO-friendly content, etc. Your hired company should be well-versed in all areas to develop a website successfully. When all the development related activities performed in-house, it results in better product quality and required outcome.
How your company knows my business and branding before starting the development process?
A business site doesn't about look and feel only. It should set the path for your business's growth and success. Choosing the best web development company in USA will take an entrusted interest in your company's plans and accordingly provide the appropriate solution for the same.
It is must ask your chosen agency about their discovery process for learning the fine points of your business. Many web development companies are analysing the current website and metrics to define what's working and what's not. They also do a market analysis to know the latest trends particular for your industry. Also, they will conduct a meeting to ask provocative questions that allow them to know more about your brand.
Do your hired web design and development company provide customized solution as per the project's requirements?
Every website requirement is unique in its own ways. And thus, your hired company should provide a customizable solution that delivers quality user experience. Custom web development solution gives scalability, flexibility, and greater branding to your company as your company grows.
How much time your web development process takes?
Well-organized website development takes time. However, knowing the estimated development time will beneficial to you if you are paying hourly rates. It also provides insights about your development project under a tight schedule. Generally, web development is done in phases, and various development companies have different timelines considering. It can take month or two to a year to complete, depends on your project size.
What's the company marketing experience?
Without a doubt, your website is the face of your business. If your site is designed and developed with essential features, then it becomes one of the best sales representatives for creating a sales pipeline and generating new leads. Besides, your website should be a mix of various marketing activities like SEO, social media, content marketing, lead generation, inbound marketing strategies, and so on. So, you should check whether or not they have marketing experience to raise your website to powerful marketing platform.
What 's your experience in my industry?
If you want to redesign your existing website, ensure to hire web development company, who already worked similar to your industry. While this may not be too important, if your hired web development company fulfils unique requirements of complex Industry, it might meet your industry's needs as well.
Hiring web development agency specializing in your industry will bring a unique design combining with the best practices across the digital space. They will also provide helpful recommendations related to site architecture, content, and user experience.
How much experience do your hired company have in content management systems?
CMS (Content Management System) enables your business to manage the site's content without the coding. Thus, it is essential to provide flexibility and control to continue to develop and grow website post-launch. You should ask your hired web development agency what CMS they use.
You have to ensure that the strengths of the platform should align with the requirements and functionality needs of your website. Many users think that CMS website function same on the backend; however, the administrative functionality and CMS interface's backend design differs a lot. So, it is recommended to request a site demonstration for better understanding.
How do your company guarantee the usable experience on all devices?
Google and industry recommended Responsive website design for developing mobile-friendly sites. These websites not only just mobile-friendly but also deliver an ideal user experience for all devices. So, it is insightful to check out how the company approaches mobile users and responsive design throughout the web development process.
What is the area of speciality?
No company is perfect at all things. If they are trying to do so, they will end with an average. Thus, while hiring web development company ensures to determine their areas of expertise. Moreover, you should also check whether your hiring development will have specific areas of expertise so that it will be a good match for your business.
What are other services being offered?
Many web development companies are offering other services like third-party integration, theme development, extension development, and so on. Ensure to ask whether they have experience of delivering the service what is promising. Just because some agencies say they can do everything doesn't mean they actually can. You have to check their experience to hire the best web development company in USA with a proven track record.
How much does it cost to develop a website?
Ensure to consider the upfront cost and the long-term value while hiring web development agency. You have to clear about many things like
How much you charge for development with particular features?
Is there a fixed cost or you be billed at an hourly for my project?
Is there any other cost you charge, apart from development cost?
Do you provide me a dedicated team or not?
What services are included in your cost? Will I get ongoing support and maintenance service or not?
While partnering with any web development company in the USA, you should check whether you'll get maximum out of your investment or not. Also, you should also check out project time, team allocation, project manager, and so on.
Who owns the website rights?
Some web design and development companies are retaining the copyright to their work. You should ask whether or not they provide 100% ownership over the site once development is done. This must include the code, graphics, and content.
What kind of quality control checks do you perform before the website launch?
Testing and quality check are one of the essential parts of the web development process. It should be complete before the website launch. Your website needs to run smoothly on various browsers and devices. Thus, web development partners should perform cross-browser testing on the latest versions of Safari, Chrome, Firefox, along with the latest versions of Android and iOS. Make sure your hired web development company follows a checklist of internal quality assurance measures to make sure everything is covered before launch.
Bonus Tips
Check reference, or you can hire web development team through referrals, who already worked with them in the past.
Checkout reviews, testimonials, etc. on social media sites like LinkedIn, Facebook, or any other.
Check the company's size, years of experience, track-records, management, credit rating, etc.
Ask for client's contact details (reference) to get a complete picture of your potential web development partner.
The Take-Home

When searching for a web development company, ensure to ask the right questions to find a reliable technology partner. Asking the above-defined questions, you can end up with finding the right web development company and achieve success in your business.
Hire us as your web development partner to develop a fully functional website. Fill out the contact form to share your details and get a free consultation and estimated web development project quote.


Warning: Undefined variable $author_social_info in /data/ftxinfotech/public_html/wp-content/themes/ftx-infotech/functions.php on line 1317