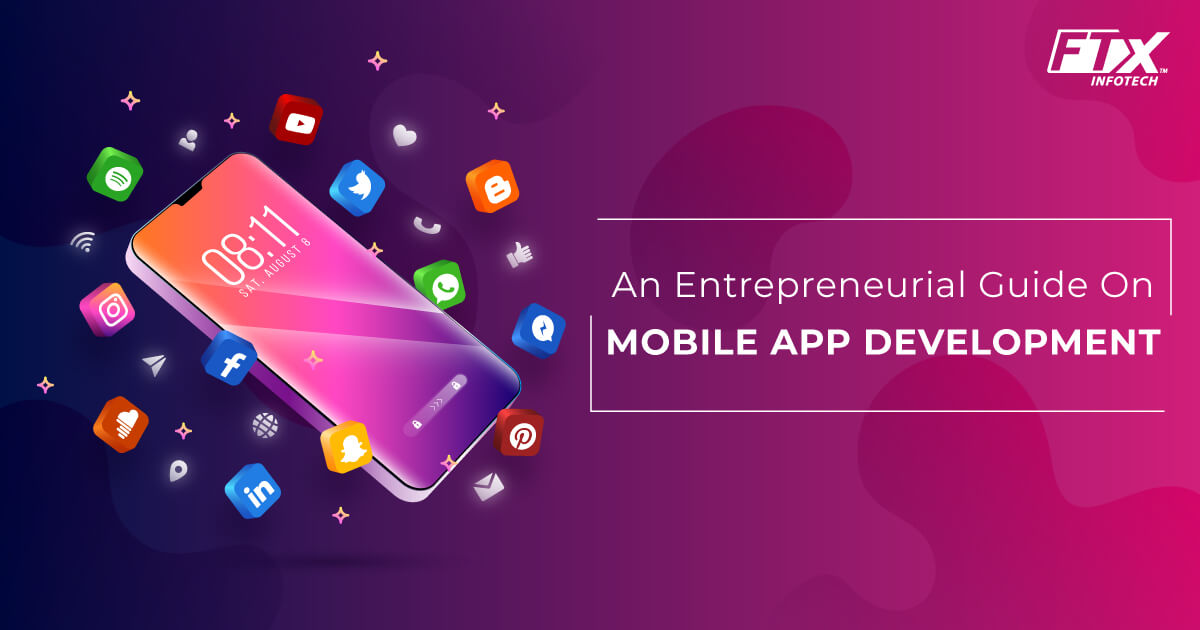 An Entrepreneurial Guide on Mobile App Development
Mobile App Development in USA has become the most needful business, especially during this pandemic. We all know that the USA has lost more than 70,000 lives due to the COVID-19 outbreak. To safeguard the rest of the people, businesses have taken the initiative of delivering essentials at everyone's doorstep by ordering through the respective mobile app. Moreover, keeping the pandemic criticality aside, the number of mobile app users has been increasing, and you cannot find people without using an app.
This blog is basically for the knowledge of potential entrepreneurs/individuals/developers who want to create a mobile app that yields business. Not very sure whether it could help business owners, but you can learn now and probably, can have a grip in the app development process when you invest in developing one.
Mobile App Development–A Complete Guide
If you are a developer or an entrepreneur, follow these steps to fine-tune your existing mobile app better or steps to know before you develop a mobile app. If you want to initiate Mobile App Development Company in USA, you should also consider user habits and behavior.
#1: Create an App That Matches Your Business Goals
If you have your business goals defined, then you should plan for an app that meets those goals. Introducing a generic app without required features and simple to gain publicity, does not work here. Your app should resemble your company and its products or services. If it is product-oriented, you should have enabled online product purchases as well.
Remember that the two key points you can focus on making your app the kings are enhanced customer service and easy payment methods. This is where you get away from the competition and increase your number of customers. But the straight fact of having an app is it reduces most of the processes that are handled manually before, in your business.
Define your goals before you start an app development and ensure they meet your expectations.
#2: Developing Your App's Blueprint
You should know and clear over the information before the blueprint of your app goes in the hands of a professional developer. Having a creative app idea is something many of us might get, but is that alone sufficient to develop an app, is what you have to question yourself. You should always look at the broader picture and ask yourself the following questions:
Do your products or services have considerable demand among consumers?
Will creating an app be the right strategy for outreaching your business?
Who are the target audiences of using your app?
What value additions you should provide them to use the app?
Creating the blueprint of your app should include answers for all the questions above; otherwise, you may tend to face a high-risk failure. It will help you figure out what features and functions to be included in the app. If you can get the accurate details of who will use the app and what factors drive them to use the app, then definitely your app ends up in success. But all these details should be ready before your app touches the development stage.
#3: Analyze the Project Scope in Detail
Determining the app feasibility is more important that helps you define its scope pretty well. You cannot simply have an app with value additions, and it should focus on user engagement. To evaluate your app's feasibility, here are the questions you should ask yourself:
Do you have a unique business proposition?
Does the app features or functions that generate customer value?
How much will it cost for creating your app?
Does the app support your business goals?
Can you generate profits with your app in the long-term?
If you have answers to these questions, you can proceed with researching more about the scope of your app. Else, do not invest so much on an app for basic features that users may not want to use. You should also decide if you wish to hire mobile developer and build your app or outsource it along with defining the scope. Rather than hiring a developer, it is beneficial in many ways if you outsource it.
#4: Validate Your App Expectations
Once the scope is set, it is time for preparing the app outline that resembles your app ideas and functionalities required for the development. It involves developing mind-maps, wireframes, mockups, etc.
Wireframes
Wireframe creates a logical and visual workflow that can be used as the first prototype of your app. Moreover, it provides a cost-effective blueprint for your app with which development can proceed smoothly and streamlined. You can edit, review, and scale the created wireframe, and when it enters the development stage, there should not be any changes with respect to features or app functionalities.
Mockups
Mockups are more than the visual representation of your wireframes and sometimes integrate with wireframe and prototype functions. Develop mockups with simple features and functions; otherwise, you may find it difficult during UX/UI development. Remember that neither wireframes nor mockups are your finished product.
#5: Getting into The Real Development Stage
This is the stage where both the developer and the client should for timeline and budget negotiations strictly. There must be a feasible timeline and budget provided by your mobile app developer or mobile app development company, and understanding the complexity and time viability, you can talk to each other about accomplishing the product and bringing it to the limelight. Do not negotiate too much; otherwise, you will be pushed to compromise on the app quality.
#6: Beta Launch
This is pre-version of your app, and you will test your app before its actual launch. The beta launch brings you the right feedback from users but may not be available as a finished product in the Android or iOS platform that you have chosen to release. These users could be the QA analysts, who are experts in identifying the best and worst things in an app. With the feedback you receive, you can change whatever needed in your app and then move it finally for the launch.
Conclusion: 
Although mobile development in the USA is at a peak, many developers still require guidelines to begin at first. Hoping this blog was informative to those who want to develop mobile apps. You can reach our technical support agents to help you throughout the process if you require any support on mobile app development. We are at your convenience and providing service around the clock, making it beneficial for you. You can contact us to initiate a chat with one of our executives, call us or drop an e-mail with your queries. We are happy to assist you.
Frequently Asked Questions