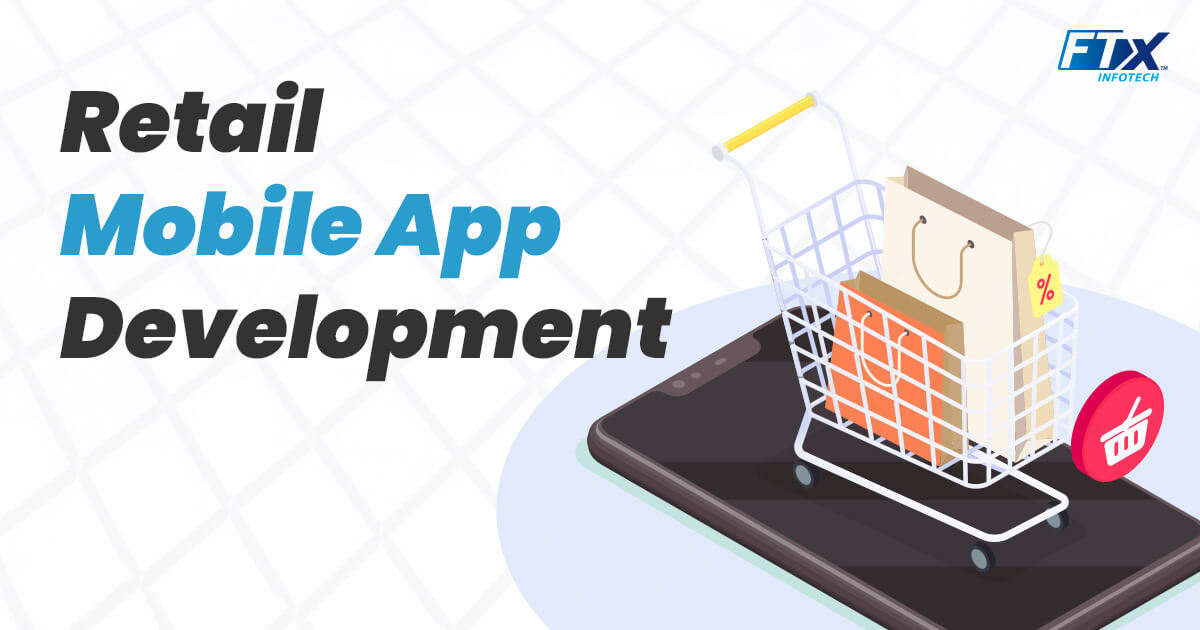 Why Retail App Is Essential for Business and What Are all Its Important Features?
Retail app development is on-trend to serve customers at their doorstep by competing in this overwhelming market. This blog is definitely for retailers who provide in-store purchases but wish to extend their service through a mobile app. Most of your potential customers use mobile phones frequently right from obtaining information, cooking recipes, online purchases of groceries, apparel, electronic appliances, computers, laptops, etc. So, mobile app development becomes a mandate need for retail businesses to a great extent.
A recent survey report shows that in 1.9 billion shopping sessions in 2016, the average conversion rate of online purchase was between 2.5% and 3.0%, whereas the add to cart rates and wish list was at 8.6% to 9.3%. Although most of the sessions ended up without online purchases, the behavior of customers preferring buying products online has not decreased. An e-commerce website alone is not sufficient for a retail business to grow. With an increase in the number of mobile shoppers, the goods sold online have been increased by more than 200% comparatively. Similarly, the add-to-cart rate has increased by 90% more than the websites. Moreover, the conversion rate is also high in mobile apps when compared to sites.
It is also predicted that by 2020, retailers will invest $23 billion in digital marketing and online advertising, and this will definitely help convert add to cart customers to potential buyers. Hence, a mobile app for retail businesses should increase and concentrate on effective selling. Here are the best five reasons as to why retail businesses should develop a retail app.
Primary benefits of retail app development
A high conversion rate of more than 90%
More engaging customers on mobile apps
Add-to-cart rate is high, which means they are your future potential buyers
Access to browse a plethora of products
Why retail businesses should develop a retail app? -Best reasons to adapt
The possible reasons as to why a retail app has been aforementioned. Yet, if you are not convinced, here are some more factors for your knowledge.
1. Magnify your sales

In a survey conducted by Apptentive, it represents that 88% of customers who have installed retail mobile apps actually use them frequently. Also, 54% of people have been interviewed, and it was revealed that the increase in sales has happened, as these people purchased in the previous month. It is possible to achieve success and profits with various types of loyalty programs and implementing several marketing strategies.

2. Be in line with the trend

This is something related to keeping touchwood of your competitors and observing retail businesses of various types who already have a mobile app and generating revenue and business through the same. Several surveys report published online about how customers are reacting to the introduction of native mobile apps instead of the mobile version of websites. You will then understand the demand of retail app users. The only way to keep your business growth scale-up is meeting their needs and expectations according to the changing market.

3. Develop brand image and loyalty

With retail mobile apps, along with accomplishing your financial goals, you can also establish your brand loyalty. One good reason why business prefer mobile apps is to improve their brand image. Implementing loyalty programs for customers helps to build a love for more products by providing special offers and discounts on their favorite brands. In the future, retail businesses have planned to bring in gamification elements into their app development that impress customers to enjoy their online app purchases.

Another trick is offering coupons to your customers because who will say no to surprise gifts or coupons. Moreover, this will encourage customers to buy more for using those coupons as you will provide a validity date for using the same. You can issue coupons based on their purchase value, frequency, and app referrals.

4. Generate more potential customers

A retail mobile app gives you the opportunity of generating more potential buyers and throws some spotlight on products of their choice. According to another report generated by Apptentive, 44% of men and 56% of women engage in buying products online. Also, the report states that the average salary of retail app users varies between $5,000 and $75,000. 

To know your target audience clearly, you can approach or hire an SEO expert to pull out target customers based on demography. Meanwhile, you can also refer to your customer's past purchase history and understand the purchase behaviour and tendency.

5. Provide better in-store experience

Customers who walk into your store, observe how you treat them as well as the products range that you have on display. Compared to in-store products, you should have a wide range of varieties online. The brand image that you create among them is more important than selling at first. Sometimes, most customers may purchase in-store products by using retail mobile apps. So, make sure that you provide the same quality throughout. You can also provide them the option of choosing and ordering products through your app and pay for it online on the go and visit your store to just pick them up.

Second, enable a QR-code scanner that allows customers to read about product information thoroughly through the mobile app itself because it is not possible to display the entire product information on the in-store shelves. Third, implement iBeacon technology to notify when customers come closer to your store for purchase. You should buy it as a device and keep it in your store connected to your devices so that when a customer reaches your in-store, you can display the on-going discounts and offers for them to utilize.
Retail Mobile App Development Must-have Features
The following list is the common set of features that every mobile app contains as a part of e-commerce selling. Hence in this blog, we will dig deep into every feature.
1. Develop amazing e-catalog:

 This feature is most expected by all your customers to explore more about products. You can be a single product seller or multiple products seller such as Amazon, but product catalog display is what attracts your customers and engage using your app for a long time. Always use high-quality pictures of products, provide detailed product description, multiple and simple category columns, updating new products, product availability along with the available date.

2. Include smart search:

Make products search simple and easy for your customers so that they do not spend time on searching itself. If the search is complex, then there are possibilities that the customer may look for another similar app. Observe customer's search behavior and introduce smart searching options for both of your benefits.

3. Add required filters:

Provide filter and advanced filter options for your customers to categorize products according to color, size, price, brand, etc. so that it makes their job easy before purchase.

4. Provide simple and faster checkout:

Like how customers treat e-catalog a priority one, similarly, faster checkout also comes in the top second list. Ensure that your app displays the total pricing and shipping details along with multiple payment options so that your customers have many options to choose for payment. For this, you require a secured payment gateway and a strengthened SSL security certificate to build trust among your customers.

5. Create space for personal profile:

Allow your customers to create their personal profile so that whenever there is a change in their address or contact number, they can change it easily. Moreover, for security concerns, if they wish to change their account password, they should be able to change it instantly.
Conclusion:
Hoping these reasons definitely clarify your doubts on retail mobile app development and why you should go for it. If you have any queries related to retail app development, you can approach our customer support executive for guidance. We are reachable through a phone call, e-mail, and chat for your convenience.
Frequently Asked Questions