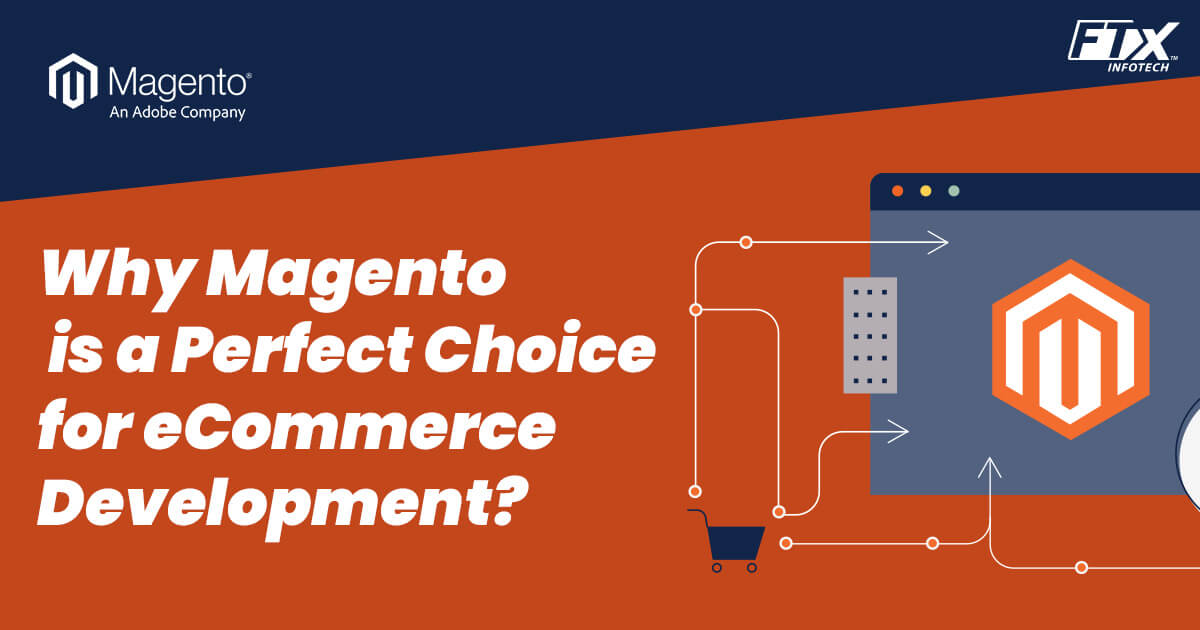 10 Reasons Magento is a Perfect Choice for eCommerce Development
An online store is a mandate these days for establishing an enriched business. Though there are several platforms for e-commerce development yet the majority of the developer's crowd talks and prefers Magento always. Web developers across the globe have rated the Magento platform as the best for developing e-commerce websites. It competes equally with other applications because of its amazing and splendid features.
Every business owner expects a comfortable and reliable eCommerce solution that provides flexibility, extensibility, and scalability at their convenience. Magento is one such popular and robust platform that has been used by millions of developers to create and publish attractive and appealing e-commerce and regular websites.
Why Magento is highly preferred by Web Developers?
Obviously! The features offered by the Magento for developing eCommerce websites make it a perfect choice by the developers. It is a fact and you should know the wonderful features of Magento and then should go for it. According to the US Department of Commerce, almost 53% of worldwide shoppers have given entry to online shopping. Even brands that have physical stores are now turning towards e-commerce, which is a fact.
Top 10 reasons why you should develop your e-commerce website using Magento
#1: Plethora of rich features

Magento breaks the complexity of managing an e-commerce requirement by providing a rich set of features that give complete protection and support to the business owners. It provides features according to your business along with advanced search filters option. With effective user management features, it can help you run an online store successfully even during initial stages. None other than Magento can provide multi-language and currency support to reach beyond particular demography.

#2: Pervasive product management

Catalog management is an important aspect of being in the online business because it comprises more than thousands of products. It allows sellers to import and upload a huge amount of products list into the website and also add details such as product comparison, pricing updates, wish-list creation, product categorization and classification, product review and rating column, etc. and manage them effectively.

#3: All platforms configuration

With the increase in the number of Smartphone users worldwide, the demand for mobile-friendly websites has also been increasing. Magento provides responsive themes that enable the same effect for users when they visit the website on the desktop by delivering seamless mobile experiences. Irrespective of any mobile platform or configuration, Magento sites work successfully and scores the user interface experience.

#4: Uncompromising scalability

Scalability is an important factor that every e-commerce business requires. Demand may increase anytime provided the quality of your product, customer service, and the prices are on at peak and most wanted by the customers. During such a crisis also, an application like Magento can support up to 500,000 products and capable of handling 80,000 orders per hour. Now you can imagine what type of businesses can deal perfectly with Magento.

#5: Fortified shopping experience

Recently, many e-commerce websites have offered a one-step checkout feature, which was possible only through Magento. Your customers get delighted with enriched shopping experience because they need not follow multiple steps to make an online payment. Once the customer has made a transaction, the details are encrypted and saved onto the app, and the next time when the customer tries to make a payment, with one single-click, it gets over. This, in turn, helps in more business conversions.

#6: Easy integration

Magento allows easy third-party software integration into the app because it is that flexible. Be it shipping, logistics, or payment gateway integration, it lets you handle the tasks smoothly within seconds. Thus, it makes the job of sellers easy and considers selling on your website is more reliable.

#7: Advanced SEO functionality

App development is something that Magento stands out to be the first. But providing the basic SEO features to make your app rank in multiple search engines without any additional manpower effort, is amazing. It offers inbuilt SEO features such as search engine friendly URLs, applies proper tags, creates site-maps, and measure the website performance with the traffic generated through available SEO resources in it.

#8: User-friendly security

Magento offers role-based security with multiple authentication levels, PCI compliance, different levels of source validation, and SSL security predominantly because security is the primary factor when it comes to online business. With having online payment facility, customers and business owners both are keen about the safety and security of payment credentials and expect a step forward in terms of security restrictions, which Magento satisfies.

#9: Multiple extensions

Extensions are important in e-commerce app development because it provides the privilege of adding any number of additional features required whenever. You do not have to put the effort of changing any coding part or begin from scratch to do the same. Magento allows you to bring in modules along with extensions and lets you stay in line to exceed the overwhelming market.

#10: Community and experts support

As mentioned previously, Magento is an open-source platform that is backed by many users, developers, and experts as a huge community. You get additional extensions and modules from the community because it is that extensible and wonderful platform to combat any type of complex e-commerce website. If you have a problem with coding and could not find a solution for it, you can ask the community, and some experts will guide you through to overcome the problem. The community provides great support for developers who are at the learning stage as well.
Conclusion:
Magento is a wonderful e-commerce development platform that any developer can rely upon. It has the capability of turning out any complex features of a website into a user-friendly site and makes your website create impressions through organic searches in search engines. If you require any support on Magento app development, feel free to talk to our technical support executive for proper guidance on how to proceed with e-commerce website development. We are not that far to reach because you can be in touch with us through a phone call, e-mail, or chat.
Frequently Asked Questions